Fact: You have eyes, nose, ears, and many teeth, so you want to keep them all as long as possible.
Everyone knows that. But what about this next fact?
Fact: On average, around 56 people are rushed into the emergency department of hospitals for paintball-related injuries every day, which are mostly associated with the eyes.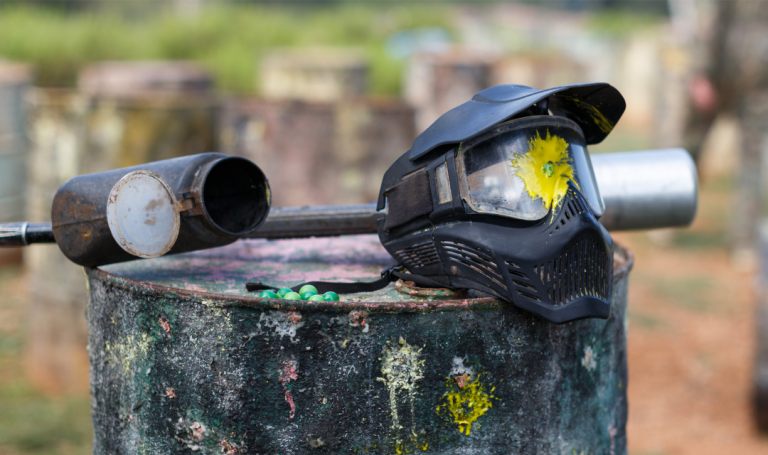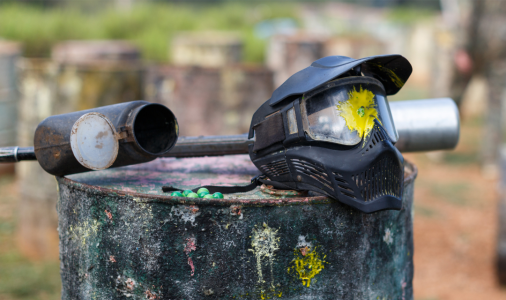 It doesn't require much thinking to know that getting hit by a paintball in delicate areas such as your eyes, ears, and face can be quite dangerous.
For this reason, you need a durable paintball facemask that provides protection from paintballs in every match without compromising comfort.
Below, you'll find a list of the top 6 best paintball masks and a detailed guide on how to find a great mask that is the perfect fit for you. 
Top 6 Best Paintball Masks to Keep You Safe
Here's a deeper dive into the top 6 high-quality masks worth every penny you invest.
If you're the type that loves full coverage over your head, then this paintball mask is a great choice for you. 
Coming at only 1 pound, this light and portable mask gives maximum protection to all areas of your head without weighing you down.
It features a rigid upper for excellent protection and a soft lower for maximum comfort and fit. In addition, the soft-sided face protection enables it to stick around the sides of your face firmly to keep you secured throughout the game.
Thanks to the adjustable chin strap and nylon lens strap, this mask is super comfortable around your face; it won't press down on your face too tightly and won't feel loose while playing. 
The lens on this facemask provides you with a stunning 260-degree field of view, which is great for those fast placed games where players are coming at you from all directions.. Besides being wide enough, the lens offers zero distortion while playing on the field. 
The goggle is a high-performance thermal lens that rarely fogs up, even if you use it for a long time on the field. So it's got your back when playing in extreme weather conditions. 
If you've previously gone with other masks and found breathing difficult, this paintball mask is a lifesaver. It has "wide-enough" openings that make it easy for air to circulate, ensuring that you dont run out of breath. 
The soft-ear protection gives you added comfort while wearing it

Covers the entire head well and even extends to the neck region

The padding on the mask dries up quickly after being soaked, making it your go-to option for long-lasting competitions
The ear protectors do not cover the entire part of the ear
This is a go to choice for any entry level even to pro players. I use to use this mask for a few years which is why it is ranked best overall. It isn't oo expensive, offers amazing protection, its durable, and just a great choice anyone. Go to your local field and I am sure you will see at least a few proflex's there!
One feature that'll keep you glued to this mask is the earpiece that comes as part of the goggle frame. This feature gives you an extra field of view to your sides, which makes it easier to spot opponents in difficult positions. 
You don't have to worry about choosing the perfect size for your head because it has an easily adjustable strap that lets you change the fit according to your head size. However, this slightly loose adjustment doesn't adjust it too much, so it may be worth trying it on first.
For most paintballers, this mask's a high-end gear worth having in your collection. It is super-flexible and offers great protection for the delicate area of your head, the eyes, ear, and mouth.
If you prefer simple maintenance, you'll find this product at the top of your list for paintball facemask options. The foam on it is super easy to remove and fix without needing glue. 
Also, it has you covered when playing under extreme weather conditions, thanks to its 100% UV protection. On top of that, the anti-fog coating on the lens helps reduce the chances of fogging up whenever you're on the playing field. This can be a lifesaver, nobody wants to have to take off their mask and wipe fog off the lens'.
Got breathing issues with your previous masks? 
Not anymore, because the airflow on this mask feels pretty smooth, and you won't need to take it off to get a deep breath of fresh air.
When you have this mask on, here's one piece of advice: SCREAM!
Yes, this mask features enough venting on the front, which helps to diverge your voice as you yell instead of reverting it to you. So, you can scream and communicate with your teammates as loud as possible without any hassle.
Offers a wide field of view without distortion

Comes in a one-piece design which is easier to maintain

The anti-fog lens prevents it from fogging up
Doesn't compress your head firmly, which makes it slightly loose
We recommend this one because it gives you pretty decent features for the price. Suppose you don't mind spending a bit extra on a mask for protection and comfort; this is a great option worth considering. Although, it would be awesome if it comes with a dual-pane lens.
If you're looking for a one-size-fits-all mask, your search likely ends here. This mask offers all the essential perks you'll need from top paintball masks, with a few upgrades to give maximum comfort on the playing field. 
The major highlight of this paintball helmet is that it comes with memory foam. 
Wait, what? 
Yes, this upgrade allows the mask to adjust to the size of your face after you wear it, which is helpful, especially when playing in a multiple-round tournament.
The ventilation holes are fixed to the mask's lower part, allowing fresh air to circulate quickly. Also, these holes help dissipate heat rapidly, preventing it from fogging up during a game. 
If you're playing on a sunny day, the visor comes in handy as it is wide enough to block sun rays without obstructing your field of view. Also, the lens on this goggle is excellent quality, you can wear this mask for hours on end during play without it becoming uncomfortable and having to take it off.
On top of that, it comes with an anti-slip goggle strap that makes it stick firmly to your face while running around. This strap system allows it to firmly cover most of your head, even when sprinting across the field.
Features a Dual pane thermal lens that makes fogging up a thing of the past

The padding on it is of premium quality which gives extra comfort 

Comes with an easily adjustable chin strap which keeps it glued to your head
The ventilation holes are too large, and BBs can find their way to your mouth if you use this as a dual-purpose paintball, and airsoft mask
This paintball helmet is highly versatile, and we'll go for it if we're considering playing in extreme weather conditions. The ease of maintenance makes us love it. This mask especially for its price range is an amazing choice. However, you get to taste paintballs once every couple of matches.
If you're up to date on paintball gears and accessories, then the Dye i5 shouldn't sound new to you. For starters, it is the Air Jordan of the paintball world, and most paintballers would pay any price to get one of these.
Here's why:
It boasts a 290-degree antifog lens that gives you the luxury of a wide viewing range without obstructing your field of view. With the mask on, you can easily spot any target directly in front of you and to the sides without needing to move an inch. 
It also has an extra wide head pad that holds the back of your head firmly while playing, and this makes it super comfy to wear. The strapping system allows it to sit on your face firmly with appropriate tension, which is a bit of added security for playing fierce battles. 
The sound system on this paintball facemask is unmatched on this list so far. It has a wireless communication feature that reduces sound distortion to a minimum. 
On top of that, the position and angles of the air vents allow it to dissipate het super fast, preventing it from fogging up even when the weather is not favorable. 
You can easily remove the padding without needing any tools 

The strapping system provides adequate tension to keep you secured 

The venting allows for seamless airflow and hassle-free communication
The foam may not absorb your sweat because it feels like a sponge
The Dye i5 is our best recommendation if you want a pro-level mask that offers a seamless playing experience. We found that it fits firmly to large heads and can be adjusted to fit a smaller head. While our communication with other teammates was up to par, you'll have to be okay with being in a sweaty environment to enjoy its perks.
This mask comes in a super sturdy and functional design that gives you the utmost comfort you can get for masks at this price level.  
This helmet features an antifog with a built-in fan system to help dissipate heat efficiently and reduce fogging. It also has a retractable visor that secures your eyes and reduces exposure to sun rays while playing.
This paintball helmet uses a fairly simple bicycle-style jaw strap for strapping it to your head. The strap also features an adjustable sling chin/neck pad to ensure that it fits your chin firmly without causing discomfort.
The size makes it great for large and medium head sizes within 22-24 inches. In addition, it comes with premium self-adjusting pads that allow you to easily alter it for excellent comfort and flexibility.
The mesh at the front of the mask also helps to increase airflow, making it a more breathable option. Also, the venting is not too wide to allow paintballs into your mouth.
Offers 360-degree protection due to the close-knit design

Pretty light, and you can wear it around without feeling too bulky

Changing the padding requires no tool or glue
The visor is not super-effective for protecting your eyes
This helmet is great for most paintball games, and we recommend it if you're more of a helmet person instead of a more lightweight mask option.. I  also like the quality of the cushions inside the mask; they give extra protection from collisions. However, we noticed that the visor on it could leave a very noticeable dent if shot close-up by a paintball.
The Empire gears are known for their simple yet highly functional designs, and this mask is no different. It is a simple one-piece paintball mask that covers most parts of your head, offering maximum protection during any game. 
It features a dual-pane lens with antifog lenses and is great for playing in almost any weather condition without fogging up. Besides, the quick-release design of the lens makes it super easy to clean by popping it out in a matter of seconds.
With this lens on, you don't need to worry about ventilation because it is highly breathable and allows enough ventilation for maximum airflow. The vents are also well positioned to reduce echo from screaming. 
Another pretty interesting aspect of this mask is that it is made of durable silicone materials. These materials are very flexible, enough to bounce balls yet, solid enough to resist injuries from collisions. 
The lens also gives a stunning 270-degree field of view that lets you see any obstacle far and wide ahead of you. It also doesn't cause any distortion in your vision, giving you top-notch clarity for playing on the field. 
On top of that, the silicone coating is highly resistant to scratches, making it your run-to option if you're looking for a lasting aesthetic design.
Wide enough to accommodate eyeglasses 

The three layers of foam give you extra comfort and protection

The soft silicon ear protection covers your ear adequately
The vents in the front are too wide and may allow paint into your mouth
We found it super easy to maintain, and the aesthetics last much longer than some similiar options. The dual-pane thermal lens ihas been great, and the field of view is stunning. Still, we'd love to see smaller vents to prevent frequently-tasting paintballs.
What Makes a Great Paintball Mask?
Your mask is undoubtedly the most important gear you'll need besides your actual paintball gun.
When you're considering what type of mask to purchase, there are several factors you need to have in mind. The most crucial are cost, comfort, breathability, protection, and ease of use. 
We understand how frustrating it is to research for several hours to buy paintball gear that is not up to par. 
Stick around to find out how you can easily choose a great paintball based on these factors with zero hassle:  
When looking to buy a mask, it is super important to know how comfy it feels when you have it on. But, of course, there's no better way to determine this than trying it out first before making a purchase.
What if you're buying one online? 
Well, you need to ensure that the mask is ideal for your head, large or small. You can find the measurements for each mask in their product descriptions. 
Checking the measurements allows you to select a mask that is just the right fit for your head size and shape.  
Another factor that determines the level of comfort you get with your mask is the padding. You want to ensure that the padding on your mask is thick enough to hold your head firmly and light enough not to weigh you down while playing.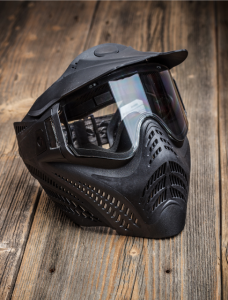 The primary purpose of a mask is to keep all parts of your head covered and protected while playing. So, you should ensure that your mask consists of pretty solid materials. For example, a silicone or durable plastic material would do.
Besides, the lens should be strong enough to break any ball that hits it. 
The mask's width and size also determine how well your mask keeps you secured. Ideally, it would be best to aim for a one-piece mask covering all parts of your head, including your chin and jaws. A bonus option is a mask that extends to the neck region.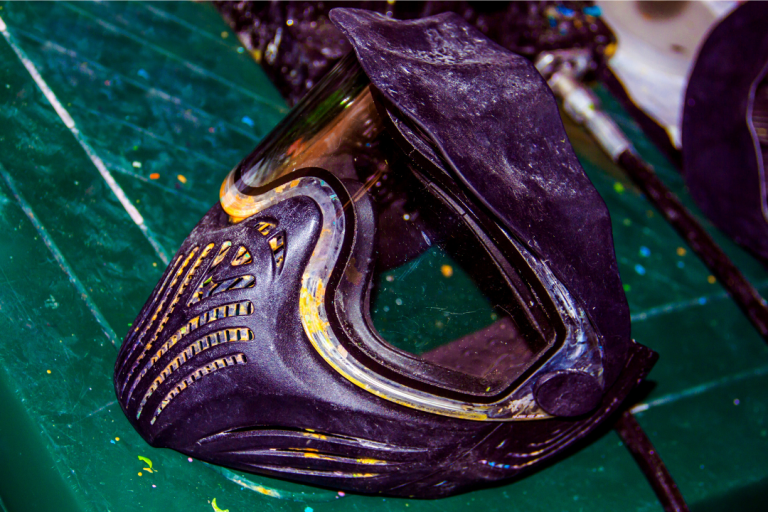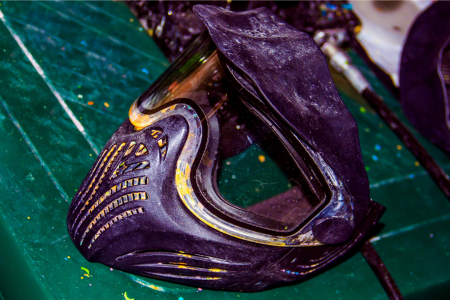 The style that it comes in also affects the functionality of your mask. 
For example, some masks come with a fixed strap, while others have an adjustable strap. 
We'd recommend going for the one you can easily adjust to match your head size and shape.
You have several options for the strap, including an overhead strap, a bicycle jaw strap, and an adjustable pad that sticks around your head tightly. 
Another style to add to your checklist is a pair of earpieces to keep your ear secured while playing. The last thing you'd want is a few pieces of paint sticking to your ear for hours, especially if you're in a game of woodsball, which lasts for that long.
Lastly, it would help if you also looked into the venting on the lower part of the mask. 
It should be wide enough and placed at an angle allowing direct airflow into your airways. However, the holes should be able to stop paint from entering your mouth.  
The cost of your paintball mask plays a massive role in determining what to get. Several different features come with a paintball mask, and they all boil down to the price of that mask.
Paintballers familiar with the basic gear know that the price for most accessories usually falls within a range. For example, some masks are high-end, while others are budget-friendly. 
The more expensive masks are ideal for professionals, offering unique features such as a wireless communication system. However, the lower price range masks are suitable for most entry-level players. 
That said, most paintball masks range from $60 to $140, with some pro-level ones being way above that price range. 
While making a decision, it is always best to work with a budget in mind.
If you've had a mask previously, you'd agree that nothing feels more frustrating than having to cut the padding of your mask and needing glue to fix it back.
That is why you must ensure that your desired mask doesn't give you a tough time maintaining it before you purchase it. 
Generally, the lenses on it should be pretty simple to swap without needing any tool. It should also be easy to clean. 
Besides, it would be best if you didn't have to struggle to put it on or off. 
Visibility and Breathability
Visibility is one vital factor to consider. Every paintballer's dream is to have a mask that doesn't fog up, even if you wear it for multiple hours in extreme weather conditions. 
The best feature your mask can have is a dual-pane thermal lens. This reduces the chances of fogging up. Besides, it protects you from sun rays and light reflection. 
Another essential factor you need to consider is the breathability of your mask. The last thing you'd want is to take off your mask every few minutes to catch your breath because you could get hit or kicked off the field.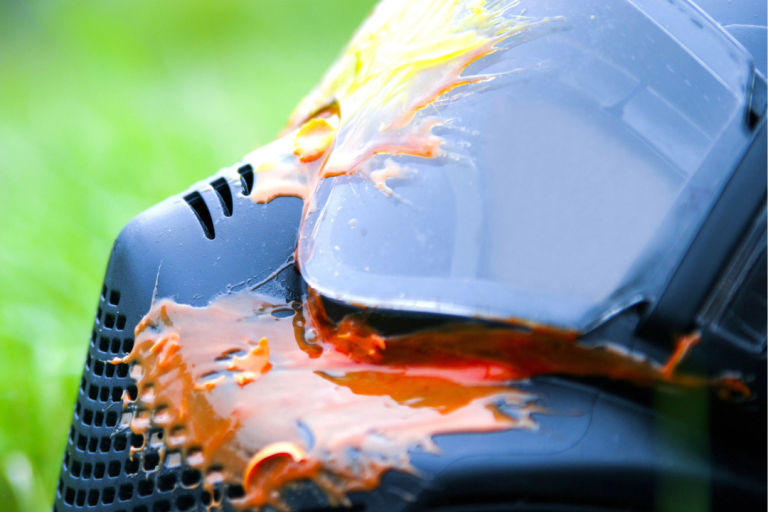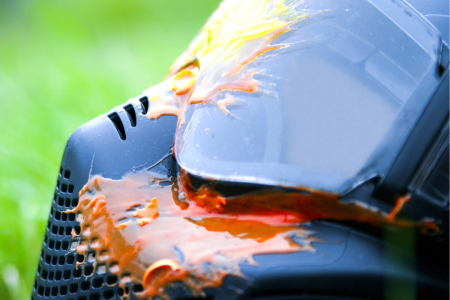 So, to ensure you get the most comfort and protection, you should go for a mask with decent venting for better air circulation. 
One thing to remember is that the holes on your masks also help to dissipate sound and make communication easy between your teammates. 
The venting also helps to reduce fogging due to heat, thus improving your overall visibility.
You'll agree that having a quality paintball mask is a no-brainer if you value protection and comfort. Above, we've covered the top 6 masks you should go for when considering buying a mask. Each paintball mask has its upsides and downsides, and we've gone over them for you.
If this is your first time getting a mask, you'll feel more inclined to choose the cheaper option. However, we've discussed several factors that can help you determine if your desired mask is an excellent fit for you.