What to Wear to Paintball | 2022 The Untold Secret Guide
We have put together the Best Comprehensive List of What to Wear to Paintball. If paintballing is something you're interested in, you should be familiar with What to Wear to Paintball and the equipment you'll need to get ready for the Big Game. When engaging in a Paintball war, you must know exactly what to wear.
You must decide What to Wear for Paintball before setting out to play Paintball for the first time. It is important to use the correct equipment if you are a novice or a professional paintball player. We will assist you if you are confused about what to wear. You will have a clearer understanding of what equipment you need to have a healthy and pleasant experience after reading this post, which contains a wealth of knowledge.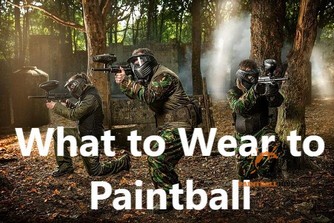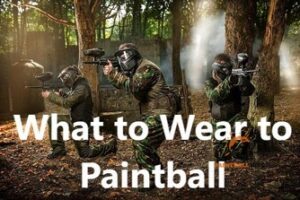 Although some players choose to dress casually in a long sleeve t-shirt and blue jeans, others prefer to go all out in cool camouflage gear like BDUs.
Now, whatever you want to wear when you go paintballing is entirely up to you, but there are some general guidelines to follow to ensure you have the best experience possible.
One of the most common questions we get is about What To Wear For Paintball on game day. To begin, consider the essence of paintball; it is, after all, an outdoor sport, which means you will be subjected to a variety of weather conditions, whether it is wind and rain or a hot summer day.
This, of course, has an effect on the terrain, whether it's rugged, icy, smooth, or muddy. Layering is always a good idea; it's easier to have too many layers than not enough. You will adapt to the weather this way.
Here's a fast rundown of the types of clothing you can wear while playing paintball for the first time.
The Futuristic Guide on What To Wear To Paintball ( What to Wear to Paintball )
1. Paintball Shirts (What to Wear for Paintball) 
When playing paintball, the general rule is to show as little skin as possible to the paint. As a result, the primary base layer should be a long-sleeved t-shirt. Most players prefer hoodies, paintball jerseys, and dark-tinted loose sweatshirts. You should also look for padded shirts that will provide more security.
These paintball t-shirts are typically pricey, but they are extremely comfortable. To support you with hits, you should wear loose clothing. Some players prefer sniper suits, which are commonly worn by hunters because they provide camouflage.
Many players even wear vests on the outside of their t-shirts. They are an excellent choice for several pockets that can fit most of your necessities, such as maps and water bottles.
Many players prefer sniper suits, which are typically worn by hunters and provide adequate camouflage. In addition, some players tend to wear vests on the outside of their t-shirts. They're ideal for woodsball players because they usually come with built-in padding that can absorb the effect.
We suggest wearing comfortable, loose-fitting clothes. Paintball stings can be alleviated by wearing hoodies and heavy clothes. We recommend tracksuit bottoms, joggers, and jeans, which are all thick and quick to walk around. While you will be given a freshly laundered overall as standard issue, we recommend that you wear old clothes that you aren't afraid to get dirty.
2. Paintball Pants (What to Wear to Paintball)
Paintballing exposes your legs to a number of elements, depending on the precise position where you will be playing. Twigs, thorns, dirt, and other elements can result in scratches on your knees and legs.
We won't advise you to wear shorts in such circumstances. Jumpsuits, shorts, cargo pants, and Paintball-specific pants are all appropriate. Your main objective should be to secure your lower body.
Two sports pants may be worn to increase the degree of safety.
It's important to note that when paintballing, you're prone to doing stuff like crawling or diving. These practices can result in bruises and scratches if your lower body is not properly covered. Make sure you wear thick pants that are comfortable and allow you to move freely.
Paintballing exposes hands by pointing the marker downrange at enemy team members, making them one of the most popular targets. Be sure to bring gloves if you're going to play paintball. Fingerless paintball gloves are worn by certain athletes, which may reduce sensitivity.
Soccer gloves, such as heavy-duty gloves or gardening gloves, are preferable.
On the back of the hand, you may have extra padding or a protective covering. Furthermore, you do not want to wear winter gloves because they are bulky and cumbersome, restricting hand mobility.
Gloves aren't completely necessary, but they do make your hand more relaxed and confident. Check to see if your gloves are too heavy. You can't properly press the button if you're wearing thick gloves. As a result, carry a pair of thin gloves to hold the guns.
Paintballs also target hands because they are constantly exposed. Let's just say certain shots aren't fun because your hands have some sensitive areas. Many players wear fingerless gloves, golf gloves, and other types of gloves; however, you should avoid wearing gloves because they can affect trigger sensitivity. At our places, we sell armoured gloves with rough padded knuckles as an upgrade.
A paintball round must not be played without gloves; if hands are left bare and uncovered, they will be severely injured when a Paintball strikes them. The fact that the hands must not be visible for the duration of the match, as bare hands are used to point guns at enemies who are farther down the range.
Some players use fingerless gloves for weight lifting, but this is not the safest or most comfortable choice since the outside skin of the fingers is normally more sensitive and can hurt badly if a paintball hits them. If someone licks off the shot, particularly at close range.
4. Paintball Groin Cup – What to Wear to Paintball 
The groin cup is a must-have item for any boy who plans on participating in the thrilling Paintball game. Many people believe that crotch shots are unusual in Paintball. If they do happen, though, they can be very painful.
Although a cup to cover the groin region may not be very comfortable, it can provide additional protection to the most vulnerable of areas. Wearing a groin cup will keep you secure and healthy, since the most important aspect of paintballing is having peace of mind.
Protectors must not be underestimated, and they must be of a robust nature, as they protect the most fragile skin on the neck. If a person does not want to spend money on a neck protector or considers it harsh and uncomfortable, a bandanna that can be wrapped around the neck must be purchased. Alternatively, a turtleneck sweater may be worn.
Crotch shots are a rare occurrence in Paintball, but they can be very painful when they do happen. Although it is easy to secure the groin area with a cup, extra protection will be needed for the most vulnerable areas.
5. Paintball Mask (What to Wear to Paintball)
Remember not to leave your paintball mask at home when you go to the Paintball field. Paintball is simply difficult to play without a Paintball mask.
Since masks are such a vital piece of paintball equipment, we suggest bringing an extra lens for them because you never know how the weather could change during gameplay.
The best technique is to carry both a dark and a light lens, since both are ideal for different weather conditions. You do not need to be concerned if anything goes wrong during the game. If at all necessary, bring extra lenses with you.
Put on a backwards baseball cap, winter coats, do-rags, or step forward, and if you're wearing a hoodie, flip the hood. Wearing a Paintball helmet or mask is mandatory and greatly reduces the damage incurred by a Paintball gun shoot. The paintball's speed in the air is 280 feet per second, and the equated speed is 200 miles per hour.
If there is no safety on, a paintball hitting the head can hurt. As a result, for full safety, a paintball helmet or mask must be donned. These helmets and masks completely cover the player's face, and there are even covers that cover the entire head.
It should be remembered, however, that when the head is hidden, the mask will fog up and visibility will be diminished. When buying a mask, choose the one that suits them best and is the most comfortable. It must be ensured that the mask does not come off or fall when rolling, running, or performing some evasive maneuver in a large battle; it must remain firmly affixed to the head.
The availability of fans for your goggles is another critical factor when playing in certain environments. Though high-quality precision masks and goggles do not need fans because they work well in most environments, some masks and goggles do. These fans operate in the same way as an air conditioner does with your camera lens.
They're also good for the thermal lens, as they keep it from fogging up in most cases. We also recommend that you carry the microfiber cloth that comes with the goggles. It will be much easier for you to clean and maintain your lenses this way.
6. Paintball Tactical Belt / Paintball Holsters 
Tactical belts are another important piece of Paintball equipment. If you want to add some attachments to the load out, they are both fine and helpful. Furthermore, if you plan to use a sidearm when paintballing, you should bring a holster for your paintball marker.
On the playing field, the paintball Tactical Belt is an excellent way to keep yourself ready and your gear safe. Two gun magazine pouches are included, as well as a sturdy 2″ fast release buckle to keep it in place.
With an internal Velcro feature that allows for a wide range of sizes up to a 44″ waist, the Condor Tactical Belt is simple to modify. The Paintball Tactical Belt is made of a tough nylon weave that is both lightweight and sturdy!
7. Paintball Knee Pad (What to Wear to Paintball)
Some pants come with built-in knee pads, while others require knee pads to be purchased separately. They're especially useful when you have to kneel in the brush to avoid the pointed rocks and other obstacles you'll find.
Knee pads provide adequate protection for your knee. Many people even forget their knee pads, resulting in serious injuries. It is preferable to wear knee pads in the game; otherwise, you will be in serious trouble.
When playing paintball, you must wear protective equipment. Following the purchase of a suitable visor, Paintball knee pads should be the next item on your shopping list. High-quality knee pads are especially critical if you plan to play in rough terrain.
8. Paintball Headwear (What to Wear to Paintball)
Paintballs have a reasonably fast pace of about 200 miles per hour. This makes head shots very awkward, so keeping the head well-protected is a good idea.
If you are not wearing any head cover, the speed at which the paintballs shoot through the air will cause injury to your head. We strongly advise you to wear a Paintball jacket, a baseball cap, or a winter coat.
Even if it isn't needed, many players choose to wear anything to cover their head because it can be a sensitive area. Wearing a tailored baseball cap backward is an easy choice, but you may also wear a headwrap, beanie, or other accessories.
Wearing a headband is also a safe choice since it protects your forehead while also absorbing sweat. Not only does holding your paintball mask's foam dry to make it more comfortable to wear, but it also reduces the risk of condensation fogging up your lens.
Additionally, for optimum security, you can need to wear a paintball mask over your hoodie. Although it is important to wear a Paintball mask designed specifically for the sport, you must also consider the type of paintball mask you should use.
Despite the fact that paintball masks are intended to cover the ears, several options cover the entire head. However, some masks that cover your head can cause fog, resulting in blurry vision. When many choices are available, you must select the one that best suits your comfort needs.
Also, when you're running, crawling, or actively playing the game, the Paintball mask should remain firmly on your head and not fall off.
9. Paintball Goggle (What to Wear to Paintball)
A high-quality goggle is needed for most paintball players. These are one of the most important pieces of equipment that players must have on the battlefield in order to protect their face and eyes. Choosing the correct form is also a crucial factor.
You can choose thermal lens goggles over single-lens goggles when deciding between the two. Additionally, choose masks of superior quality that have a comfortable lining and anti-fog shields.
Paintball goggles are an essential piece of equipment. It is used by both normal and irregular players to shield their faces and eyes. In reality, it is essential for anyone to use, whether they are beginners or professionals. There are many advanced paintball goggles on the market today.
Some masks have an anti-fog shield, which is a great way to keep playing. Paintball masks come in a number of forms, designs, sizes, and shapes.
A pair of Paintball goggles should also be chosen. The thermal style lenses used in the construction of paintball goggles are extremely effective in preventing paintball mask fogging. When choosing between the single lens and thermal lens goggles, the thermal type variety should always be preferred.
The goggle fan must be added to prevent fog from getting through the lens in humid conditions. When buying a fan, make sure that it is compatible with the goggle fan. Goggles that are not intended for use in Paintball should not be purchased. The goggles sold in normal stores would not work properly.
Goggles that aren't made for paintballing should be avoided. Paintball goggle can help you stop losing your vision if you are hit in the eye with a Paintball.
10. Paintball Boot / Paintball Shoe 
After that, we'll talk about boots. It might not be a good idea to walk around in your shoes. As a result, you'll need to put on a fitting pair of shoes that will make your game even more exciting than you expected.
Now, before you pick which style of What to Wear for Paintball, you must first determine if you'll be playing woodsball or speedball.
If you're going to play woodsball (or scenario Paintball), you'll want to wear shoes with a good amount of tread and, ideally, some kind of ankle protection. Running shoes, hiking boots, and trail runners are all suitable options.
Many players also want to wear battle boots to add to the authenticity of Paintball, but I'll be the first to tell you that unless you've been qualified to wear them (or you're a particularly large man or woman), it's probably not a good idea.
Even if battle boots are useful in a woodsball setting, the extra weight you're forced to carry is typically outweighed by the extra weight you're forced to carry.
You should also stop wearing open-toed shoes like sandals because they increase the risk of hurting your feet. It's also not a good idea to wear brand new shoes because they can be tough to run in and walk around in. It's preferable to wear shoes that are familiar, comfortable, and broken in instead.
Since you must run the entire field when playing, you should always wear comfortable and soft shoes. It will be a sensitive situation and very frustrating if you are unable to run through your boots. You'll need to invest in some heavy-duty sporting or running shoes. Hiking shoes may also be used, but they must be comfortable.
In Paintball, ankle injuries are common, so Paintball shoe and grip are essential. The majority of the players wear hiking boots or athletic shoes. They should be footwear that you don't mind getting dirty or wet in. For both protection and comfort, make sure the footwear you select has a closed toe. For the return trip, it is recommended that you wear clean shoes.
They'll keep your feet dry and dirt-free all day. They will also assist you in running around the field at a fast pace so that you can be as effective as possible on the battlefield.
11. Paintball Vest – What to Wear to Paintball 
In most cases, you'll need to buy a paintball vest. When preparing to participate in a Paintball game, a vest is a must-have piece of clothing.
The vest is also equipped with padding that is specifically designed to withstand impact and shock. It's preferable to wear a vest with several pockets so you can carry your essentials with you on the field.
If you have to cover one part of your body above all others, make it your upper body, which is why you should layer your upper body. Wear a hoodie, jumper, or jacket that is heavy.
Padded jackets are an added bonus. If you go paintballing often, you might want to invest in branded and paintballing-specific shirts. Layering will be unnecessary for these shirts. Aside from defense, you may want to consider camouflage shirts or vests, which are built to break up the outline of your head and maximize your chances of winning.
Some players wear vests over their jerseys on the outside. They're commonly used in scenario paintball tournaments, where they're used to carry bombs, handguns, paintballs, and other miscellaneous items. These Paintball vests come in a wide variety of colors and designs. Some of them are sold with exclusive themes, such as offbeat fashion or military police.
A tactical vest is a must-have item for anyone who plays paintball, particularly if they are a tactical Paintball player. Many of these multi-pocket vests have several pockets to keep your valuables secure.
Remember to remain strong in the game by wearing a tactical vest. After all, it will shield you from all of the harsh and dangerous environments that you can experience when paintballing.
12. Head Protection – What to Wear to Paintball 
A fitted baseball cap or winter hat is recommended in addition to goggles or masks to cover your head and other parts of your face. Remember to turn up the hood of your hoodie if you're wearing one.
These essentials will protect your head. What you need is high-quality head protection that remains securely in place on your head. During a fight, it should not slip or fall off while running, crawling, or doing other activities.
Paintball Game Recommendations – What to Wear to Paintball 
Paintballs aren't as light as regular paint. They can be fired at high speeds, causing a tear or hole in your clothes, or even harming you. We've compiled a list of useful hints for you to consider.
1- Avoid wearing thin shirts.
When it comes to clothing, thick shirts and trousers are the way to go. These parts will significantly reduce the impact of a Paintball hitting your body at a high velocity.
While some people believe that wearing additional layers under the battle overalls given to you would help deflect Paintball shots, this isn't always the case. Paintball is a high-intensity sport, and with the adrenaline flowing, the temperature quickly rises.
It's best to stay hydrated and wear apparel that doesn't limit movement, such as workout gear. Players should also bring a change of clothes for the end of the game, particularly if they've tried out a few too many command rolls.
2- Make Use of Several Layers
Paintballing requires more than just throwing on some old clothes; instead, wear several layers of clothing to reduce the effect of the paintballs as soon as you are struck.
The extra layers will give you more space between your skin and the outermost layer of clothing. However, if you're playing in extreme heat, we wouldn't recommend layering up. It's important to dress appropriately for the weather.
3- If necessary, add extra protection to your outfit.
Some players are more sensitive to pain than others. It's safer to go for full gear if you want to reduce the amount of pain you feel when playing paintball.
Knee pads, a Paintball mask, elbow pads, and neck and chest protectors are all recommended. To relieve pain from paintballs, make sure to cover every inch of your body.
4- Don't expose every part of the body.
Keep in mind that no matter what, you can never reveal your skin. When paintballs make contact with exposed skin, they cause pain. A Paintball can leave a welt on exposed skin if fired in an unprotected location. Assist in making the paintball game as pain-free as possible.
5- No valuables or jewelry
Paintball, as previously said, is a rather action-packed sport that is full of adrenaline and adventure. It is recommended that you should not wear any jewelry or valuables on the battlefield because there is a high risk of losing them or being wounded by them. You don't want your game to be hampered by worries about your belongings.